Are you looking for Wheel Alignment for your vehicle?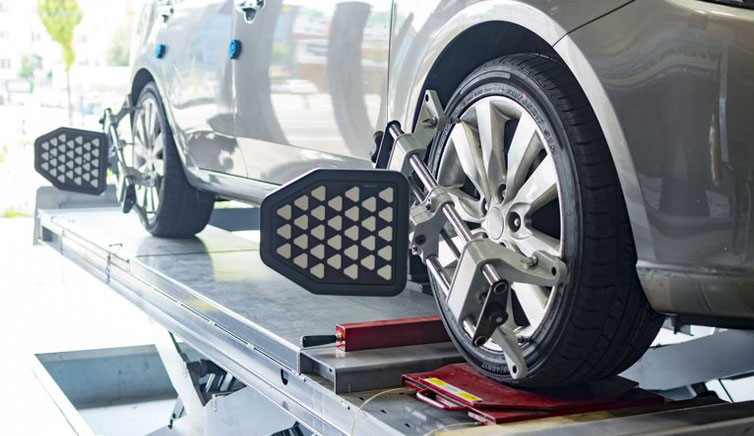 To ensure that your vehicle remains safe and steady, you need to make sure that all the four wheels of your car are correctly aligned. Wheel alignment is one of the most critical parts of your car's maintenance, and it reduces the tyre wear to ensure that your vehicle travels straight without veering to one side.
Wheel alignment can be referred to as breaking or tracking and involves the correcting of the angles of your car's wheels to ensure they are parallel to one another at a 90-degree angle to the ground.
At Auto-Line MOT Centre, we will offer you a choice of wheel alignment options and provide you with the best wheel alignment cost at Shardlow. Whether it is a toe alignment, camber, or caster alignment, we will inspect and correct it for you.
Why do your car wheels need aligning?
Misaligned wheels constitute a significant safety hazard; the wheels must have angles defined by its manufacturers, but normal wear and tear can cause an issue with the setup.
Experts recommend one alignment check at least once every year. However, we at Auto-Line MOT Centre recommend bringing your car for a 4 wheel alignment at Shardlow whenever you see these symptoms –
You will notice that your car starts to pull to one side even at low speeds.
There will be uneven wear in your car's tyres.
Fuel economy starts dropping dramatically.
If you notice any of these issues mentioned above, bring your car to Auto-Line MOT Centre to get a car wheel alignment at Shardlow. There are several types of different service packages that we offer, and the three most common types are –
Front-end wheel alignment – Front-end wheel alignment is one of the most basic types of wheel alignment. Also known as a 'toe and go' service, this type of wheel alignment is perfect for cars with a solid rear axle. It also corrects any misalignment of the front axles.
Thrust - Thrust alignment ensures that all four wheels are correctly aligned. It is recommended for vehicles with a solid rear suspension. After you get it aligned, you will get better fuel economy, and a lot less tyre wear.
At Auto-Line MOT Centre, we perform all the car wheel alignment at Shardlow in accordance with your cars manufacturer's guidelines. We use highly precise automated measuring system for thrust alignment.
Four wheel alignment – Four wheel alignment is the best way to align cars with independent suspensions (it is also suitable for front-wheel-drive vehicles). This method combines both the thrust and front-end wheel alignment system. At Auto-Line MOT Centre, we will also inspect and align the rear axle angles whenever you come for a 4 wheel alignment at Shardlow.
Toe alignment – A "toe" is the angle of deviation of a wheel from the straight front. Toe misalignment can happen on both front and back wheels. We will also check that the distance of the wheels is correct on the same axle.
Toe alignment comes in two different types, they are –
Toe-in – Toe-in is a situation when both front wheels point towards the centre-line of your car.
Toe-out – Toe-out (popularly known as a negative toe) is the exact opposite. In this case, wheels point towards outside of your car.
Toe-in and toe-out angles sometimes depend on the car being front, rear, or all-wheel drive variant.
Visit us today –
Auto-Line MOT Centre has a significant market presence in the UK. We are very popular for our signature service, car wheel alignment at Shardlow.
Visit us any time to avail the best service with the lowest wheel alignment cost in the entire county.