Are you looking for Welding Repairs  for your vehicle?
Car welding centres are aplenty in the United Kingdom. Unfortunately, many of them make a more mess out of this complicated but essential service than they do good.
If you live and drive in Derbyshire, feel free to visit our facility, Auto-Line MOT Centre. We are widely known as the foremost welding repair garage Shardlow.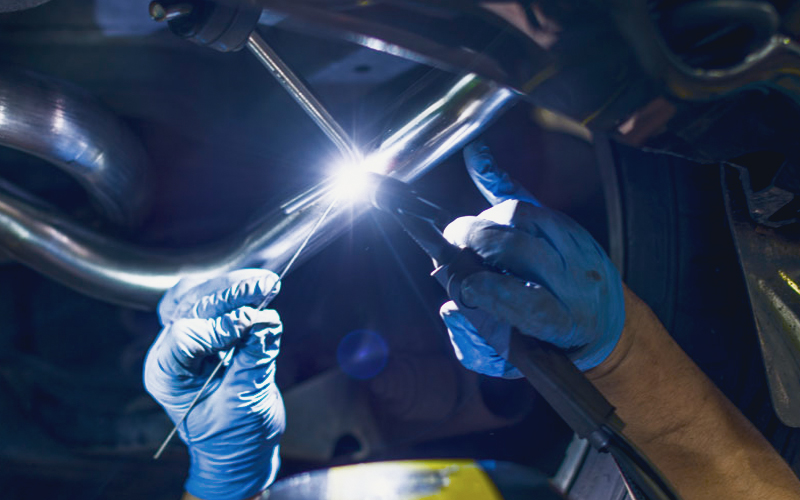 Amidst many high-priority issues, simple services like welding often do not receive the spotlight. But a large percentage of MOT 'fails' in the United Kingdom happen due to overlooked welding work. At our facility, our technicians specialise in all manners of modern welding methods including:
TIG (Tungsten Inert Gas) welding
MIG (Metal Inert Gas) welding
Gas welding, which is the commonest type, and
Arc welding
How can we help you?
Most welding sessions at our facility are minor. However, there are also many major welding service sessions which our technicians at Auto-Line MOT Centre have worked on. Here are some of the ways our efficient welding repairs Shardlow can help you:
1. TIG welding: This is required when there is a significant area that needs welding. For example, if the floorboards of your vehicle have suffered significant damages for some reason, we will use our TIG welding Shardlow to offer a complete and precise solution. Since this is an advanced technology, it emits no smoke or soot - unlike most welding sessions that you might have witnessed.

Note that car fenders require TIG welding as it prevents corrosion over time.

2. MIG welding: Since we are the leading welding repair garage Shardlow, we also have in place this latest machine. In many ways, MIG welding is better than the TIG version because it can work on a diverse range of metals, is speedier and also cost-effective. We recommend the MIG method for undercarriage or monocoque damages.
3. Gas and arc welding: Gas welding is used most widely as it is rather easy to work with, and saves your time while completing the job at hand satisfactorily. Gas welding, which uses the time-tested oxyacetylene mixture, is our preferred option for any damage to alloy wheels, cracked or dented engine cylinder heads and miscellaneous bodywork.
Note that as a responsible service facility, we do not use the arc method unless our clients demand otherwise. Since electric/arc welding involves the removal of the battery's negative terminal, Auto-Line MOT Centre will advise you of the processes' pros and cons.
Contact us today!
If you live in Shardlow or the surrounding counties, you may have asked your smartphone "best welding repairs near me". The chances are that you will be redirected to our facility.
Call us on any working day at +44 1332 799199 and book an appointment.