Are you looking for Engine Diagnostic for your vehicle?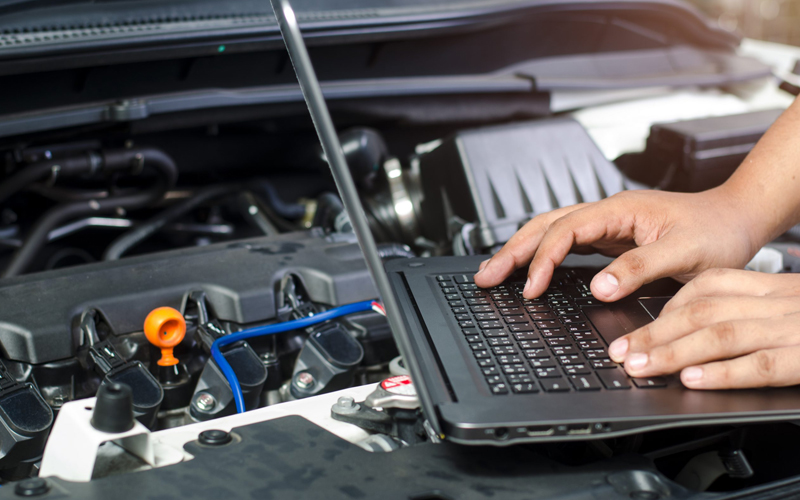 Most car owners have a notion that car diagnostics is restricted to engine diagnostics; more specifically, ECU or Engine Control Unit testing. That is not the case.
At Auto-Line MOT Centre, we provide the widest assortment of car diagnostic services Shardlow.
Since our facility offers an unparalleled range of diagnostic services, we have a wide client base from several towns and cities near Greater Manchester, West Yorkshire and Leicestershire.
We have been appreciated and often hailed as the most competent provider of engine diagnostics Shardlow.
Some of the ways we can help you
Here are some of the general diagnostics our technicians can carry out within tight time brackets.
A. Engine diagnostics: This is by far the commonest test performed. Our facility possesses state-of-the-art equipment to read error codes generated by the ECU. It is the most crucial aspect of car diagnostics Shardlow.

We use hand-held OBD scanners which have on-board the latest diagnostics software including TOAD. An acronym of 'Total OBD and ECU Auto Diagnostics, it is capable of reading more than 1500 different error codes generated by the ECU. Based on these decoded readings, our technicians start working.

B. Mustimeters and circuit testers: All vehicles have miles of electric wires and a complicated array of circuits. While most related issues are covered in ECU tests, some errors may lie hidden. Being the leading provider of car diagnostic services Shardlow, we use VOM (volt-ohm-milliammeter) testers which can correctly analyse your vehicle's electronics systems' present and average voltage, electricity supply errors and resistance.

Besides, circuit testers are also deployed for accurate readings. Auto-Line MOT Centre's technicians ensure that is no imminent chance of any electrical fault.

C. Battery testers: Many of our clients have tried DIY techniques of testing their car battery's health, mostly without success. Our technicians use hand-held digital voltmeters to determine the present state of the cell. Voltmeters analyse battery charge in real-time. It helps us determine if the battery is working perfectly or needs a recharge.
Note that since we specialise in car diagnostics Shardlow, our facility stores battery chargers suited for most cars. We will be glad to help you out by recharging the unit till it reaches its optimal levels, which is 12.66v in most instances.
Searching - "engine diagnostics near me"?
We will be pleased to provide a lot more than mere engine diagnostics Shardlow. Book your slot by dialling +44 1332 799199.