Are you looking for  All Season Tyres for your vehicle?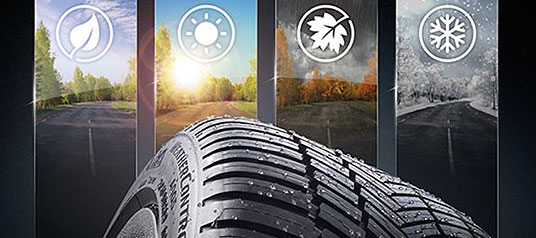 Buy all-season tyres Shardlow for all weather conditions at the Auto-Line MOT Centre
All-season tyres, also known as all-weather tyres, are a cost-effective alternative to summer and winter tyres because they make seasonal tyre changes unnecessary. In addition to the time-consuming visit to the workshop, these tyres can also save the cost of the set of winter or summer tyres as well as the installation costs required for the change.
All-season tyres are also a real alternative for car owners who have no space for storing the second set of tyres and do not consider external storage of winter or summer tyres.
Optimum driving safety - all year round.
Why are all-season tyres unique?
In all-season tyres, the advantages of summer tyres are optimally combined with the benefits of winter tyres. The tread pattern of all-weather tyres is a combination of the two different groove arrangements of winter and summer tyres. The longitudinal grooves typical of summer tyres provide the necessary grip and braking performance in warm temperatures and in wet conditions. The tread block teeth typical of winter tyres ensure the necessary grip in winter road conditions. Although all-season tyres are not specifically designed for seasonal weather conditions, as all-rounders they guarantee the necessary year-round driving safety. For this reason, they are extremely popular with occasional drivers and are particularly in demand in regions that are rarely affected by harsh winter road conditions and extreme temperature differences between the seasons.
For drivers who drive high-mileage and often drive on motorways, it is still strongly recommended to go for the seasonal tyre change from summer to winter and vice versa.
THE MARKING OF ALL-SEASON TYRES
All-season tyres offer excellent running properties in all weather and On all types of ground. The winter suitability of all-season tyres is Marked with the symbol "M+s", just as with winter tyres. An additional Snowflake symbol also confirms that the all-season tyres meet a High-quality standard. Nevertheless, the use of all-weather tyres is a Compromise compared to tyres specially designed for the respective Season. For example, winter tyres should be preferred in regions with Heavy snowfall.
We hope you have found this short information useful. Please have a look at our all-season tyres on our website. All you need to do is type in your tyre size and click on "all-season". You will then see what we have to offer.
From famous top-quality brands over very reliable mid-range tyres to decent budget tyres. We have it all.
So, if you want to buy cheap all-season tyres Shardlow, this is the time and place!
It is so easy to buy new all-season tyres Shardlow with us.
Search - choose - book fitting appointment- place order.
If you need help or have any questions, please contact our team.